AMADEUS Inspirations
Discover & Indulge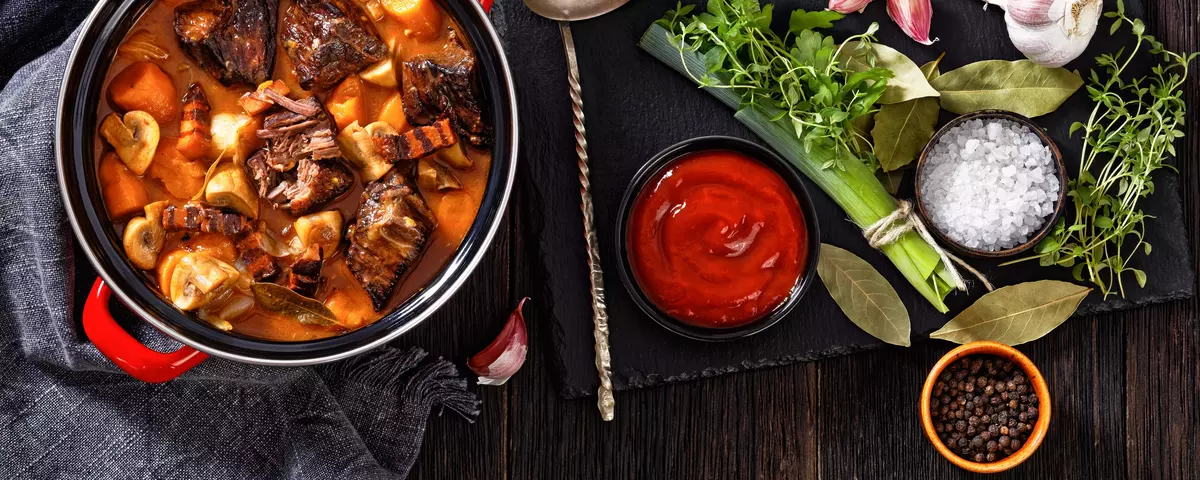 750 g | 25 oz braising steak
100 g | 3.5 oz bacon
5 onions
2 bay leaves
1 sprig thyme
1 sprig parsley
0,25 l | 1 cup beef stock
1 tbsp tomato purée
0,5 l | 2 cups Burgundy
salt
pepper
4 garlic cloves
200g | 7 oz mushrooms
4 tbsp Noilly Prat (French Vermouth, alternative: Martini)
4 carrots
Cut the meat for the beef bourguignon into cubes (approx. 4x4cm) and then cut the bacon into slices. Peel the onions and chop finely. Now make a small bouquet using 2 bay leaves, 1 sprig thyme and 1 sprig parsley. Tie all the herbs together with a little kitchen thread. Now prepare the stock and tomato purée and open the bottle of red wine.
Brush a braising pot with oil. Line it with half the bacon slices. Add half of the cubes beef and season with salt and pepper. Now add the onions. Then add the remaining boef bourguignon meat in a layer and season well. Add the bouquet of herbs, the tomato purée and the peeled garlic. Pour on the wine, stock and Noilly Part. Cover and leave to simmer for 4-5 hours.
Now peel the carrots and clean the mushrooms. Cut them all into slices. Add the carrots approx. 1 hour and the mushrooms 15 minutes before the cooking time ends. Finally season the bouef bourguignon.
Bon appétit!